Serving our community since 1972
Jackson Pediatrics is the oldest and largest pediatric medical practice in Teton County. Our board-certified pediatric physician specialists work with infants, children, and adolescents through all phases of development. We are devoted to the comprehensive care of children in sickness and in health.
Jackson Pediatrics is the only facility in the region where your child will always be seen by a board-certified pediatrician, five days per week. Our physicians are all on the medical staff of St. John's Health, where we provide neonatal, pediatric, and intensive inpatient care.
James Little Sr., MD, FAAP
Raised in Helena Montana, Dr. Little did his undergraduate work at Dartmouth College in Hanover, New Hampshire, earning a BA in Biology before going to Denver Colorado, where he earned his MD from the University of Colorado School of Medicine. He completed his Pediatric Residency and served as Chief Resident at the University of Wisconsin Hospitals in Madison, Wisconsin.
Jim moved to Jackson in 1972 and started a solo pediatric practice which eventually became Jackson Pediatrics. Jim has been a competitive skier all his life, skiing for Helena High School and Dartmouth College Ski Teams. He has continued to compete in the Jackson Town Downhill.
Jim has watched several generations of kids, including his own, grow up in Jackson. He loves to travel, and has pursued opportunities to see many Total Solar Eclipses around the world. He used to be an avid climber but no longer likes to scare himself and is satisfied with his hiking, biking and photography.
Tiffany Milner MD, FAAP, FACP
Born and raised in Texas, Dr. Milner did her undergraduate work at Duke University, where she earned a B.A. in Spanish and Latin American Studies. She returned to the Lone Star State for medical school, attending the University of Texas Health Science Center at San Antonio. Residency took her to the University of Utah Medical Center in Salt Lake City, where she completed a residency program in both Internal Medicine and Pediatrics, serving her final year as Chief Resident.
It was in Salt Lake City that Tiffany met her husband Jared, and they both became enamored with the Mountain West. She also discovered trail running, mountain biking, backpacking, and downhill skiing.
After residency, Tiffany began a faculty position at Dartmouth Hitchcock Medical Center and Geisel School of Medicine in Lebanon, New Hampshire, where she worked as a combined Internal Medicine and Pediatric Hospitalist. Tiffany has a strong interest in international and immigrant health. During her 4 years at Dartmouth, she spent 2014-2015 working as a Pediatrician in Rwanda, where she met Dr. Jim Little.
Travis Riddell, MD, MPH, FAAP
Raised in the San Francisco Bay Area, Dr. Riddell comes to us via Stanford University, where he earned his B.S. in Earth Systems.  He received his M.D. and Masters in Public Health from Oregon Health & Science University with honors, and completed his pediatric internship and residency at the Boston Combined Residency Program in Pediatrics.  In Boston he was a Teaching Fellow at Boston Medical Center, a Boston University teaching hospital, and a Clinical Fellow at Children's Hospital Boston, a Harvard University teaching hospital.  Dr. Riddell took over ownership of Jackson Pediatrics from Drs. Little and Ridgway in January, 2014.
In addition to his clinical work, Dr. Riddell has a strong interest in pediatric environmental health and has a record of published research among underserved populations in Nepal, China, and the Philippines.  He has also worked as a clinician in Nepal and Lesotho. Dr. Riddell serves at the Teton County Public Health Officer.
Travis and his wife Annie have two children: Case, born in 2014; and Lauren, born in 2015.  Travis has longstanding family ties to Jackson Hole and is a hiker, biker, climber, and backcountry skier with experience from the Teton Range to the Himalaya.  The Riddells consider themselves privileged to call this spectacular place home.
Dr. Wheeler was born and raised in St. Cloud, Minnesota.  She attended Kenyon College in Gambier, Ohio where she received a B.A. in psychology with a concentration in neuroscience.  She worked for one year after college, then went on to medical school at The Ohio State University.  Dr. Wheeler met her husband, AJ Wheeler, on the first day of medical school.  He is an emergency department physician at St. John's hospital.  She did her pediatric internship and residency training at the Children's Hospital of Wisconsin in Milwaukee.
AJ, Keri and their then 18 month-old son, Mason, came to Jackson right after completing their residency training. She has been a part of the wonderful team at Jackson Pediatrics ever since then.  Since moving to Jackson her family has been blessed with the addition of their daughter, Ellie.  Along with work and spending as much time as she can with her family, Keri enjoys distance running, biking, backpacking, camping, and cooking.
After graduating from Northwest University with a Bachelors of Science in Nursing, Samara left northern California where she grew up for the wild mountains of Wyoming. She has worked in a number of different settings with various patient populations and enjoys the variety that comes with a nursing career. Most recently and in conjunction with her time at Jackson Pediatrics, Samara works in Nursing Administration as a House supervisor at St. John's Health. When not at work, Samara enjoys spending time with her husband Collin and their two daughters, Harper and Hollis.
The friendly face at our front desk is Brenda Hodgson. Brenda joined the Jackson Pediatrics staff in 2006. Her natural willingness to help coupled with her computer skills and attention to detail keep our font office running smooth.
A native of Preston, Idaho, Brenda lives in Victor with her husband, Tim, and their geriatric Spaniel. They have 4 grown children and 4 grandchildren.
When not working, Brenda enjoys traveling and spending time with family, especially her grandkids. She can also be found working out, playing Mahjong or walking her "Gramma dog".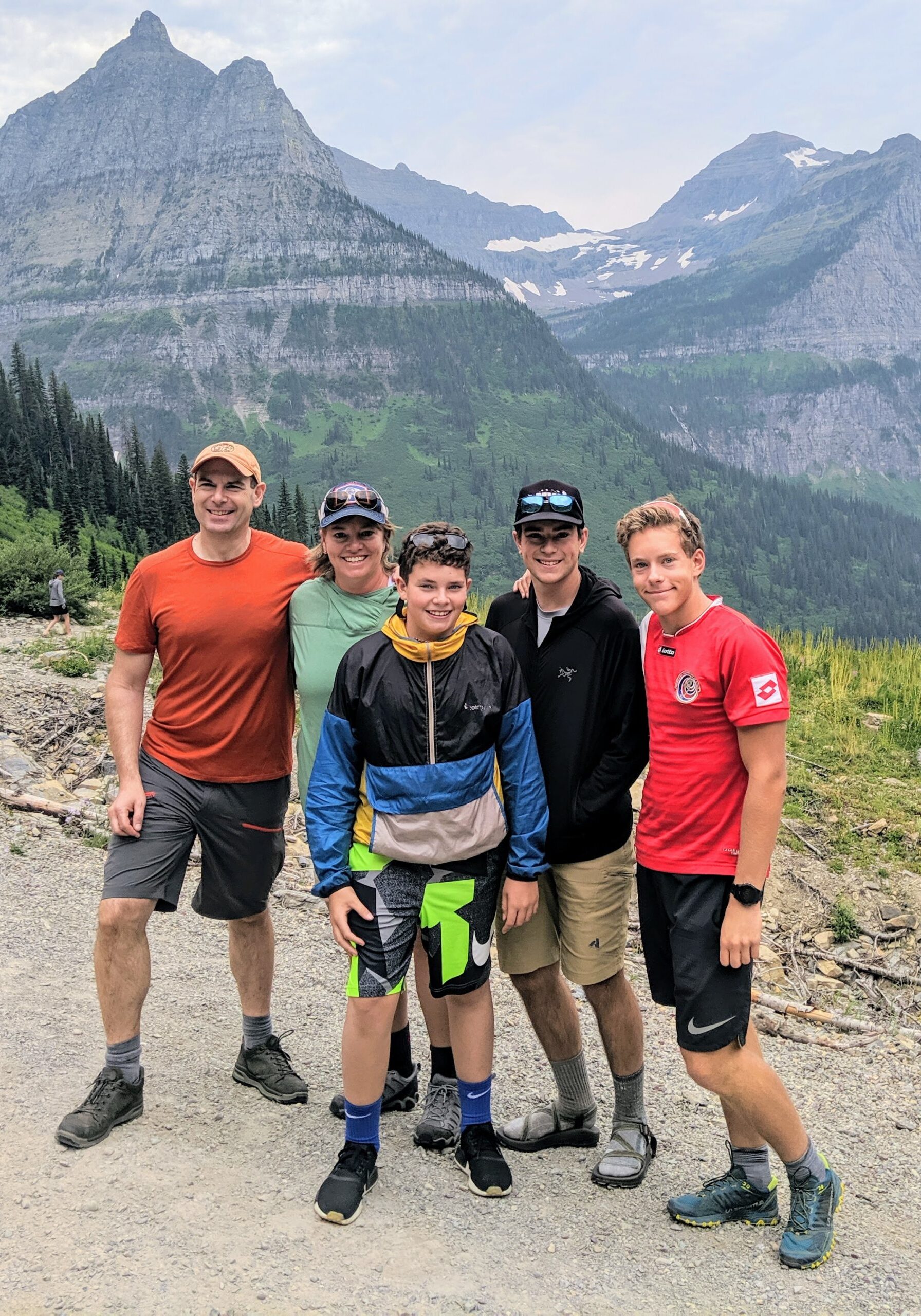 Andy comes to us after spending the past three years as an oncology clinic nurse at St. John's Health. He is excited to work with younger patients and their parents, ensuring thorough care from newborn to adolescence.
Andy and his wife, Liz, have raised three sons in this community: Colby is a senior at Carleton College, David is a first-year student at Bates College, and Bradford is a freshman at the Jackson Hole Community School.
Andy earned his nursing degree from Central Wyoming College, his PhD in physical chemistry from the University of Wisconsin-Madison (Go Bucky!), and his BA from Carleton College.
Missy Matkin is our Clinic Manager. She joined Jackson Pediatrics in 2000. She has an in-depth knowledge of medical billing and practice management. She also serves as our bookkeeper. Missy enjoys working with the physicians at Jackson Pediatrics and is committed to making all family's experiences in our office a positive one.
A native of Montana, Missy is a graduate of the University of Montana. She has lived in Teton Valley for 30 years. She and her husband, Billy, have 4 children and two grandchildren.
In her free time, Missy can be found cheering for their kids at various softball, hockey and volleyball events around the area. She also serves as a 4-H leader and Advisory Board member. Their Victor residence is shared with 2 dogs, numerous horses and cows.
We are here for you & your child
Healthy, happy children are our passion, and if you have any concerns for your child we would love to speak with you and schedule an appointment for your child.